"FROM LITTLE SEEDS GROW MIGHTY TREES."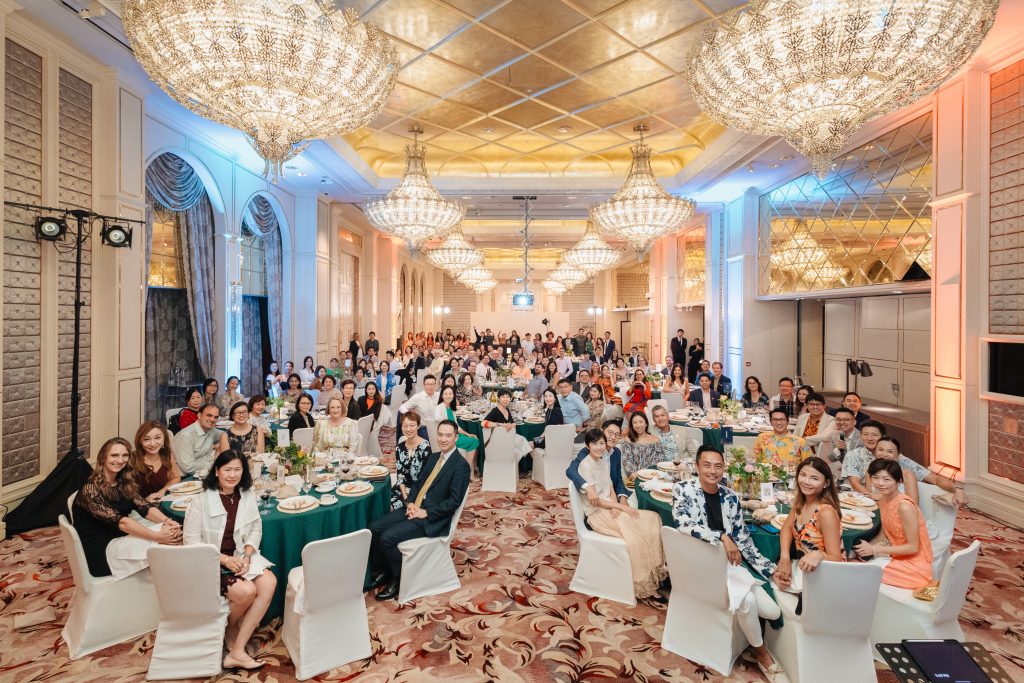 Branches of Hope held its Seeds of Growth dinner on the 21 September, celebrating the achievements of our community members, staff, and supporters throughout a wonderful evening.

How incredible to be able to host our community of supporters, both new and old, for an evening of celebration and togetherness. We hope that everyone who could attend enjoyed the Seeds of Growth dinner as much as we enjoyed hosting you, and from the bottom of our hearts, thank you for joining us.

We were blessed to have had amazing performances from Jolie Chan and Kel & Fidela. But the night could not have happened without the coordination of Summer Lam and her team, the great work of the production team, florist and photographer. We hope everyone enjoy the audio journey and put yourself into other shoes to understand how difficult refugee moving away from hometown to a safer but unfamiliar city.
Again, thank you for your support of the 1,200 community members that Branches of Hope assists through both our ROAD and STOP programs.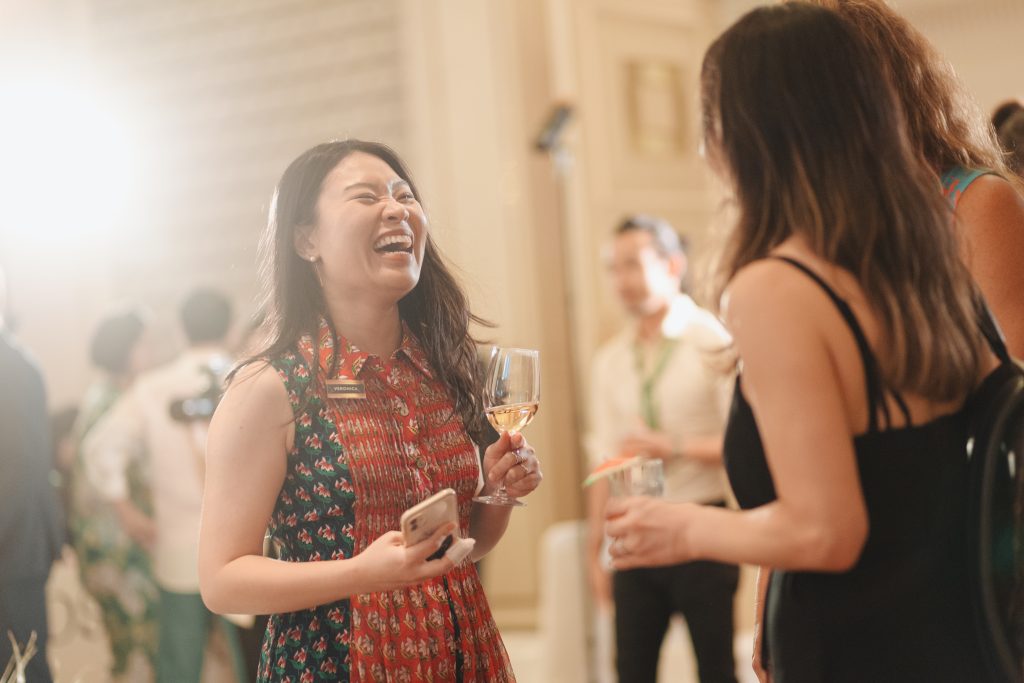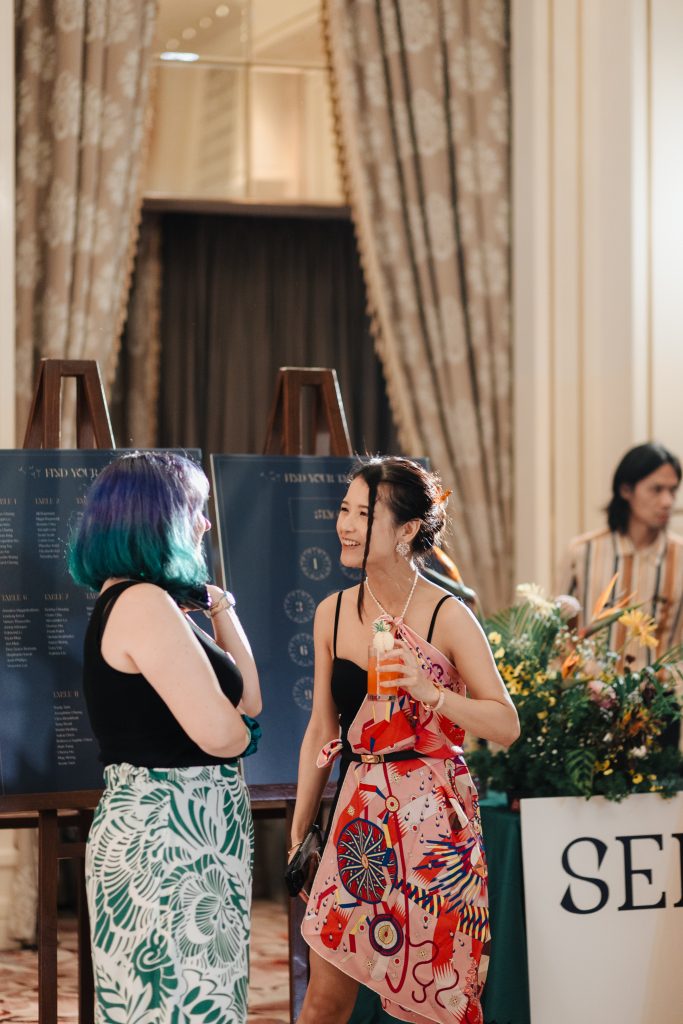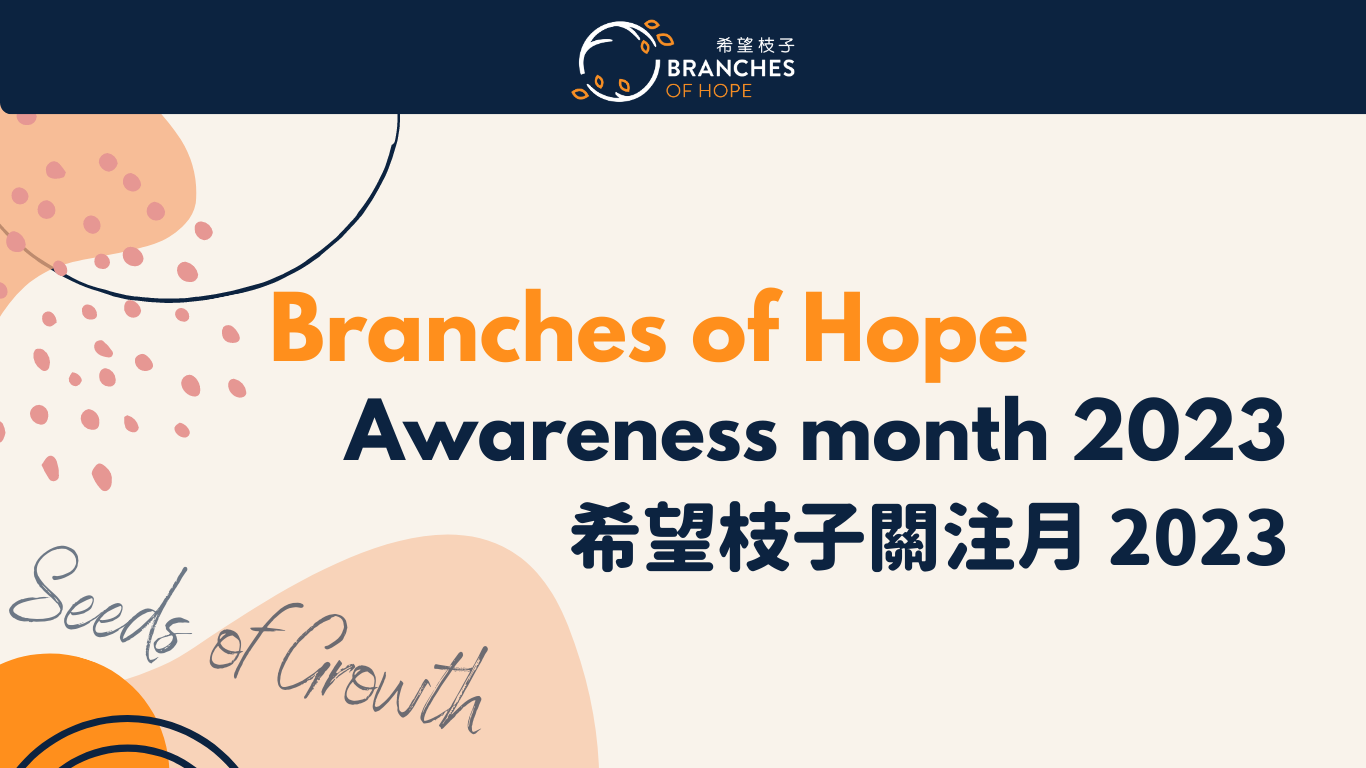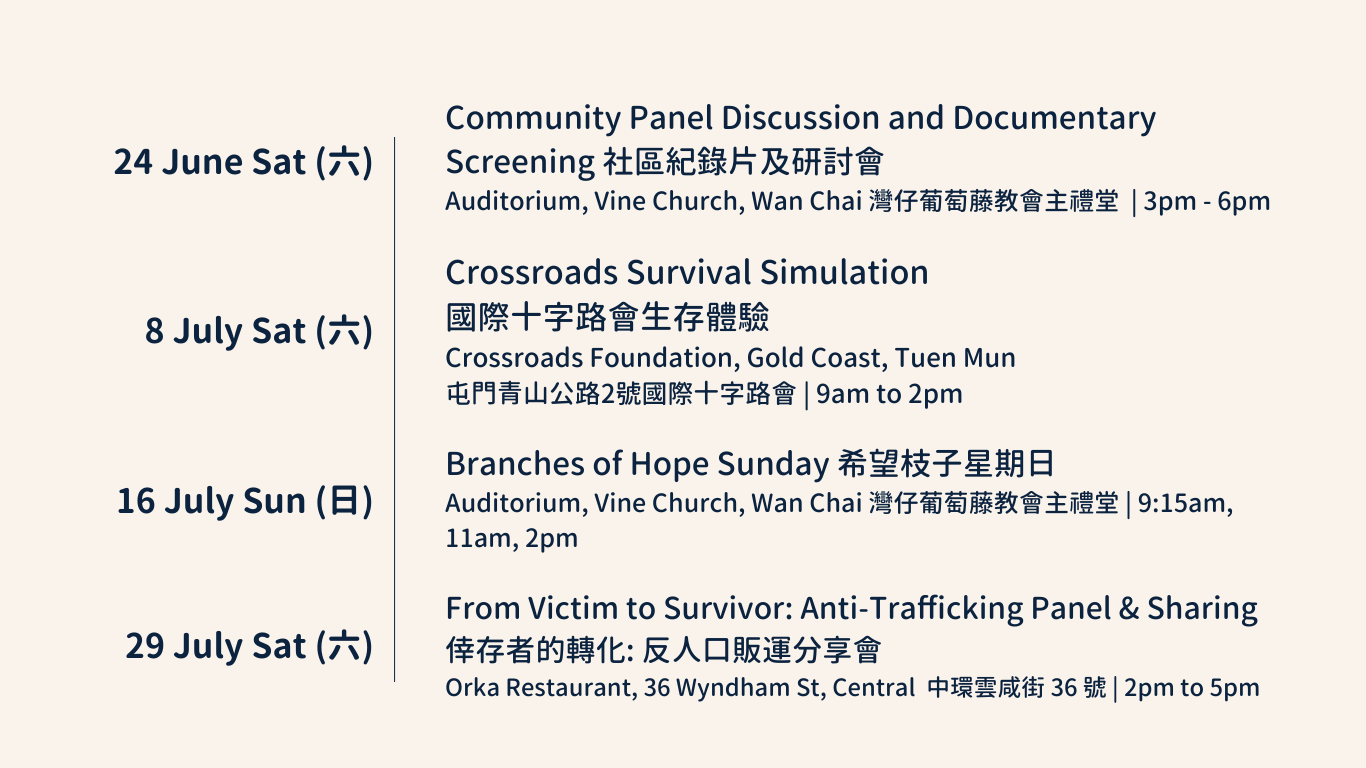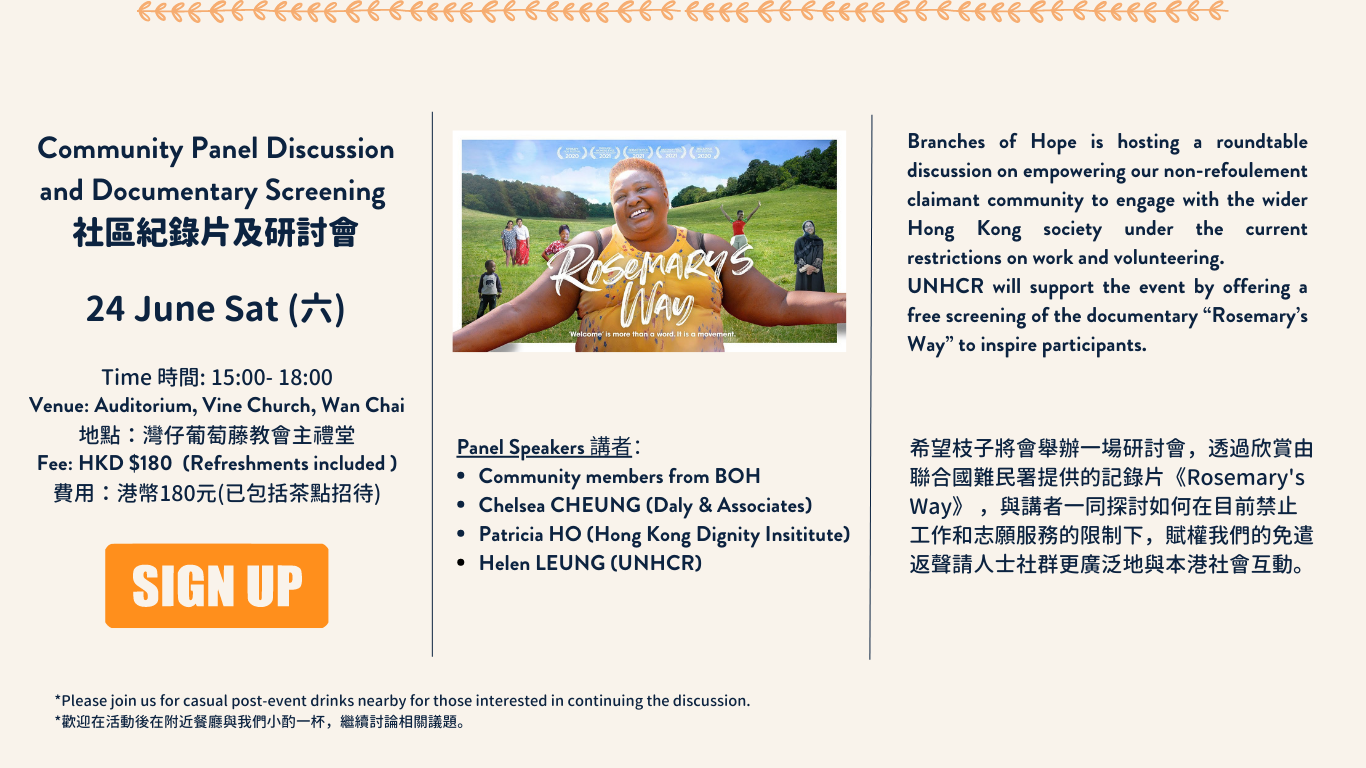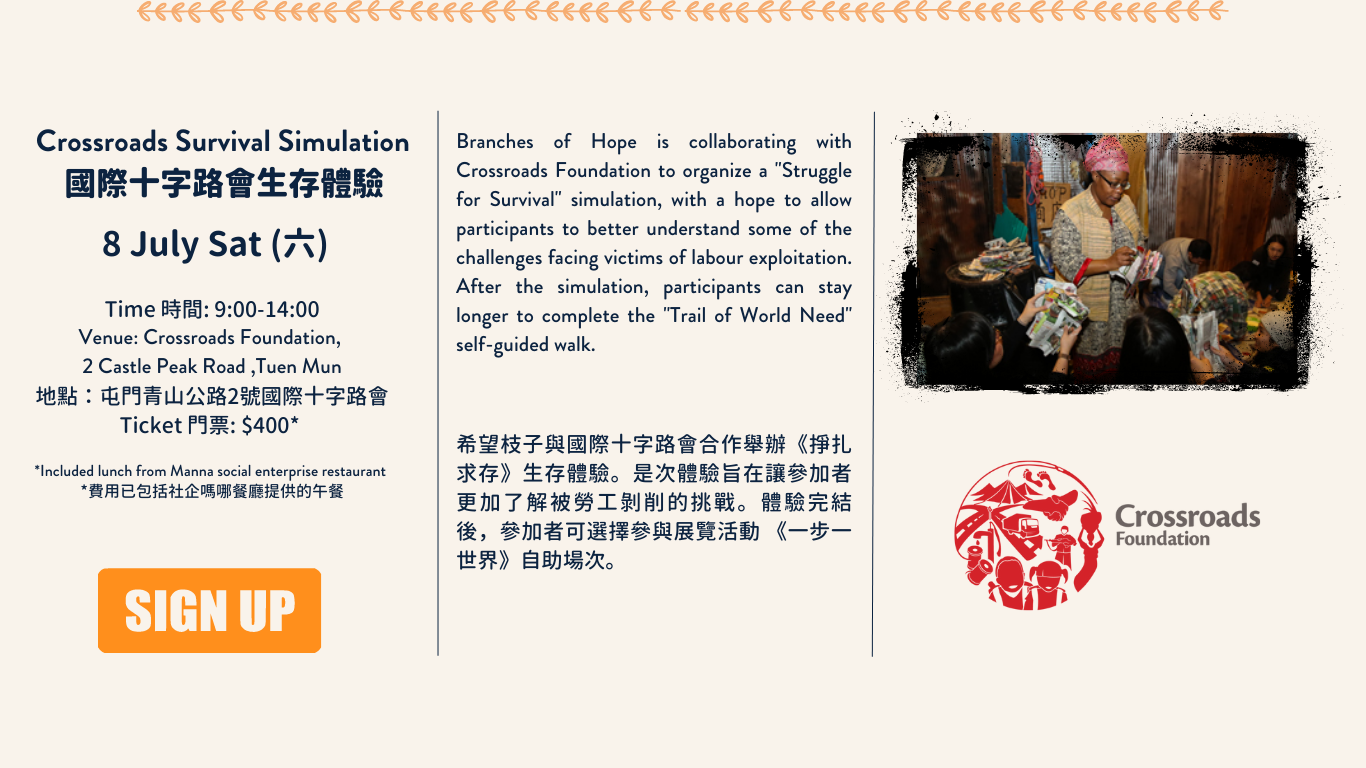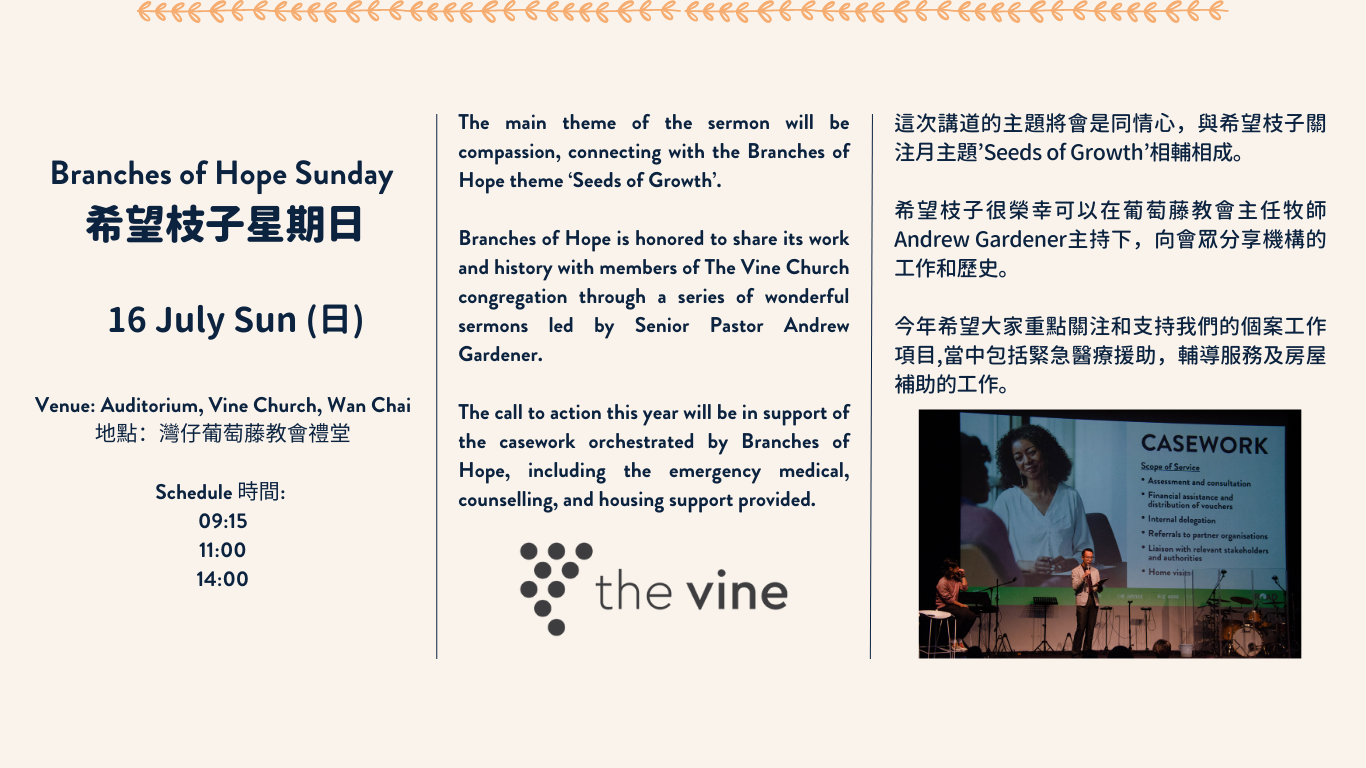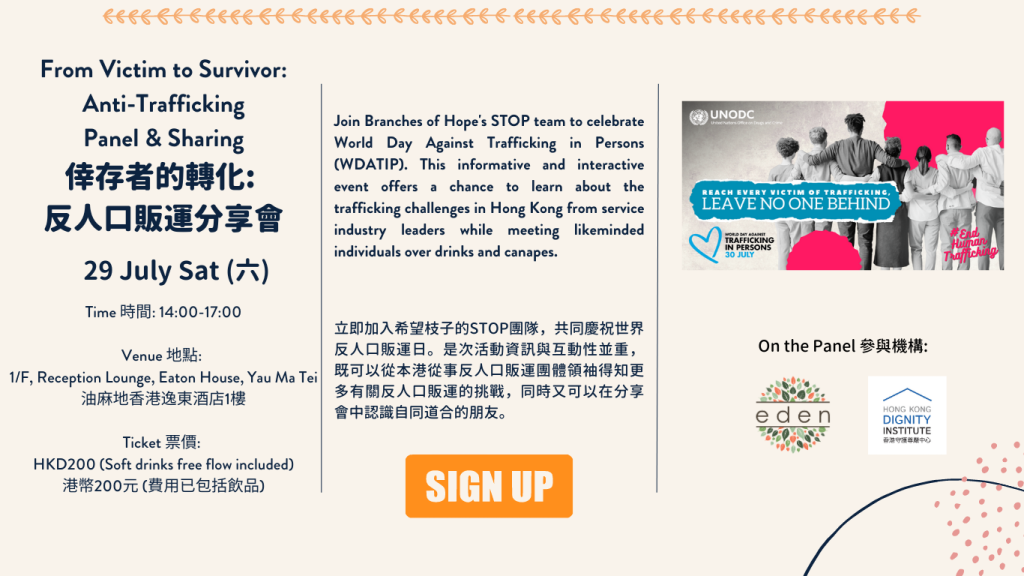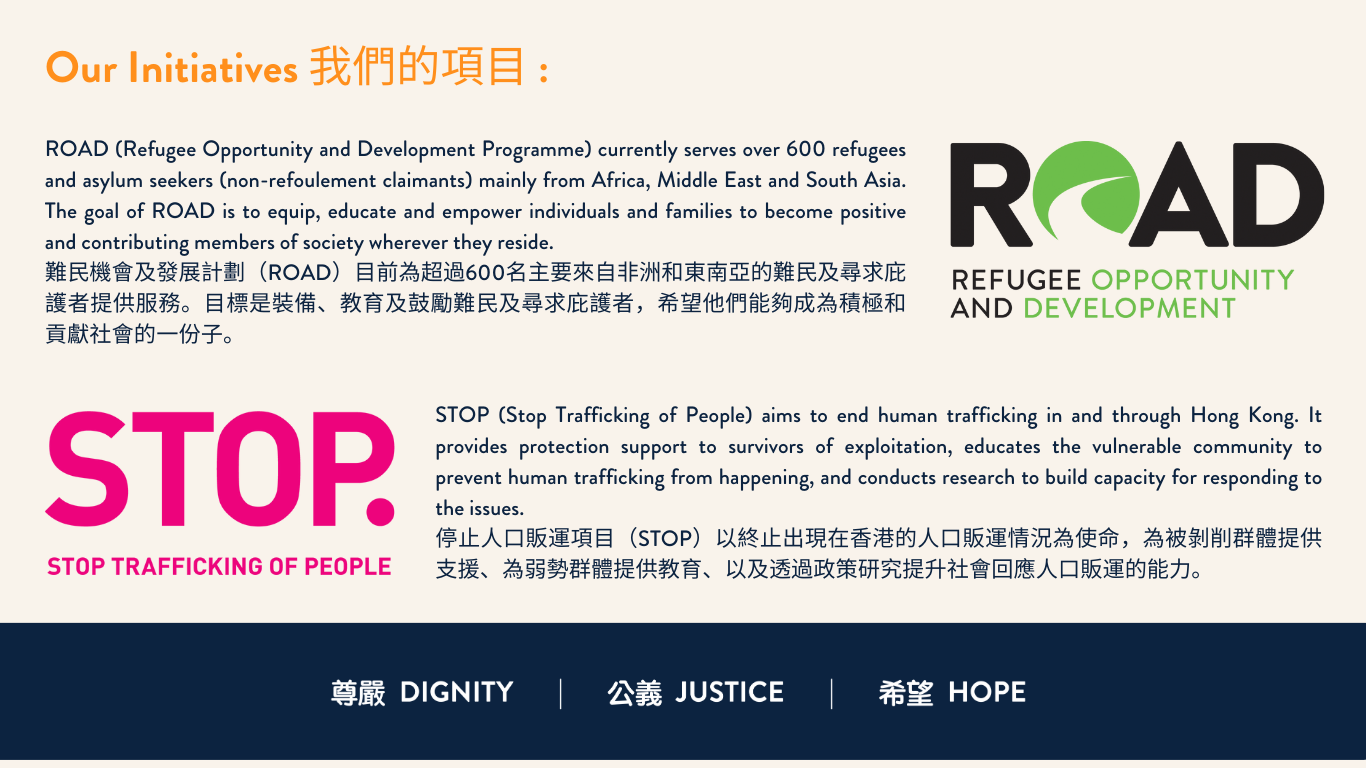 SPARK OF HOPE
"HOPE IS A DIFFICULT THING TO KILL, JUST A SPARK OF IT CAN START A FIRE."

This year at the Branches of Hope Gala Dinner, we unite our supporters and donors to celebrate our achievements on this 10-year journey of restoration.


Through impact stories and program updates, we hope to encourage one another – We can all be a SPARK OF HOPE in someone's life.

By the end of the evening, we hope everyone feels valued and equipped for their commitment to supporting the people we serve at Branches of Hope.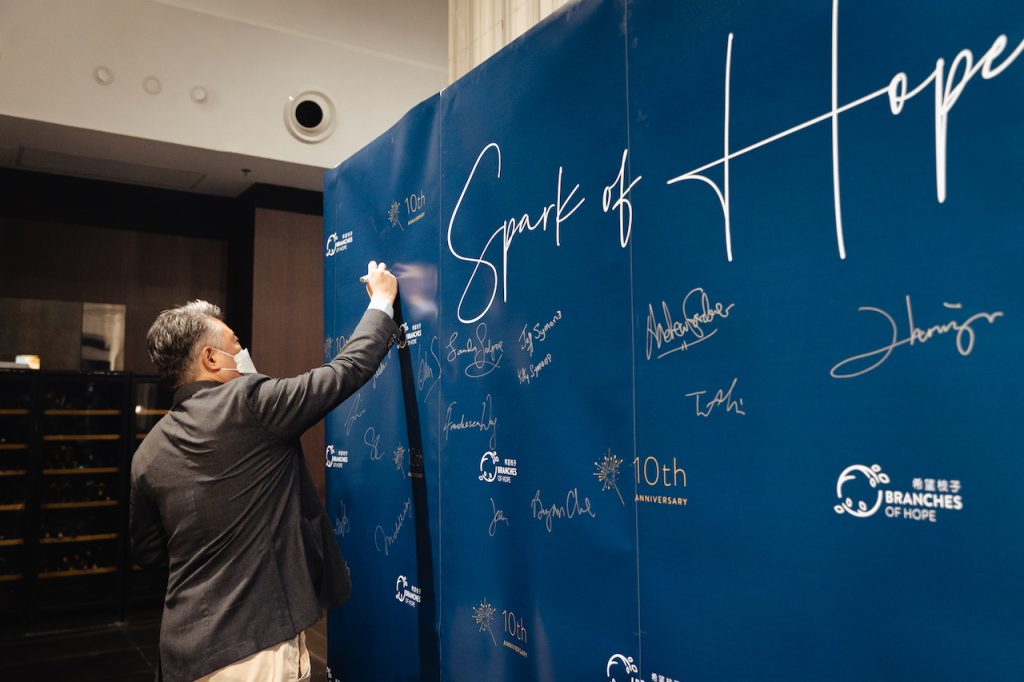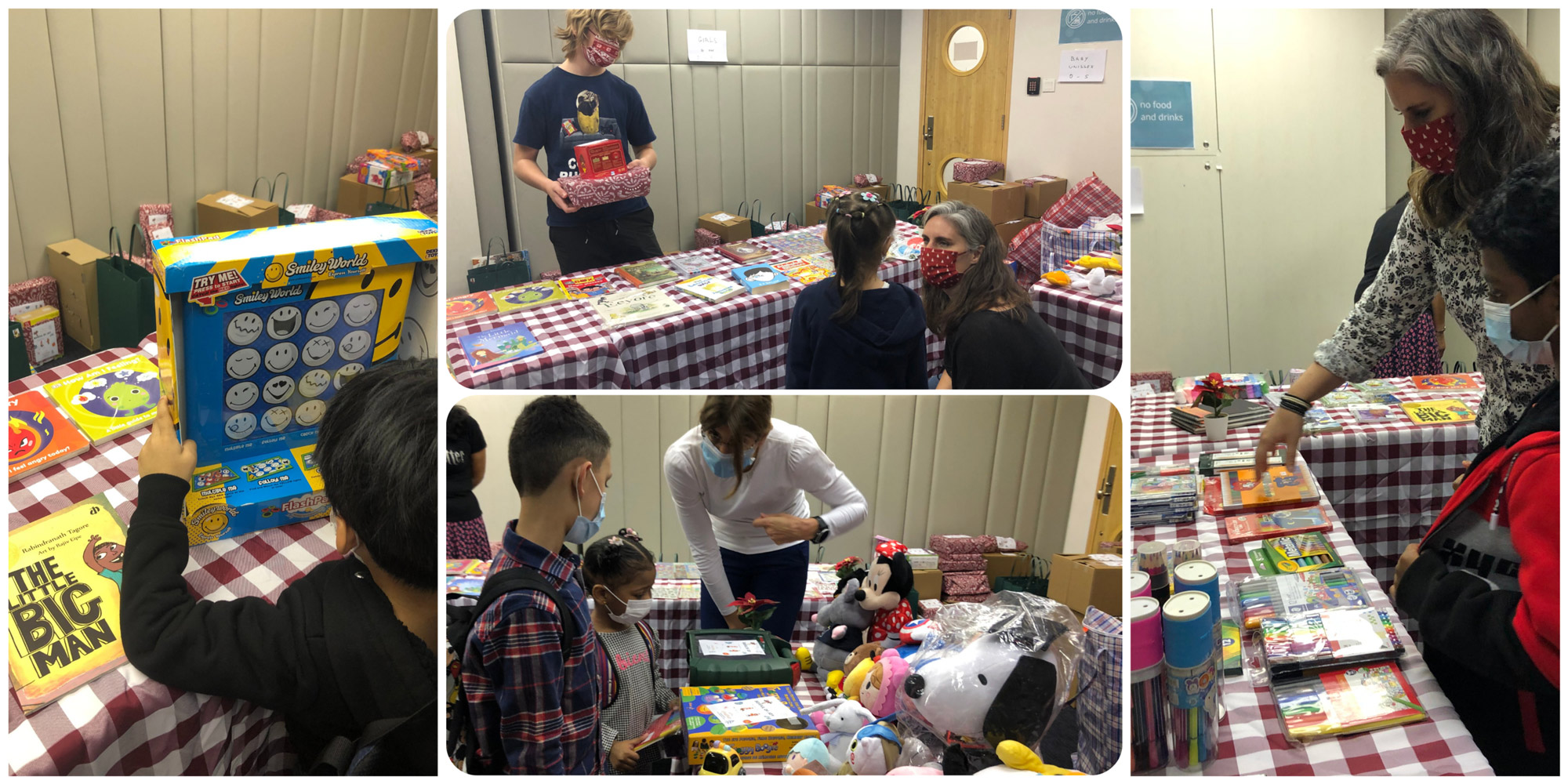 BRING JOY TO REFUGEE AND ASYLUM SEEKER FAMILIES ACROSS HONG KONG!
Together with Happy Baton and RedBox, we are helping to spread some festive cheer this holiday. We invite you to give a gift to children of refugee and asylum seeker families across Hong Kong.

COMMONLY ASKED QUESTIONS:
How old are the children?
⦁ The gifts will go to children with ages from 2 to 14 years old.


What should I give?
⦁ You may give a preloved toy or book (as long as they are in excellent condition) or purchase a new gift.


How do I donate?
Drop off the gift at any of the collection points listed below during office hours:

Central
Central Smile – 12/F, Manning House, Central, Hong Kong
Rebooked – 1/F, 9-11 Mee Lun Street, Central, Hong Kong

Wan Chai
Vine Church – 29 Burrow Street, Wan Chai, Hong Kong (Tuesdays to Fridays, 9am-6pm at the Concierge; Sundays 9am-4pm on 1/F Children Area. Please call 94494363 for enquiries)
Baumhaus – 1/F, Kar Yau Building, 36-44 Queen's Road East, Wan Chai, Hong Kong

Chai Wan
Redbox Chai Wan – 4/F, 20 Lee Chung Street, Chai Wan Industrial Centre, Chai Wan, Hong Kong


When is the toy gift collection period?
⦁ 1st to 29th of November


When will the toys be distributed to the children of Branches of Hope?
⦁ 7 to 9th of December


How else can I help?
⦁ You can sign up to be a volunteer tentatively on 29 November to help sort, gift wrap and prepare the toys for distribution!


Contact Branches of Hope's colleague Deanna at 9406-9539 via WhatsApp or email at dkwok@branchesofhope.org.hk
---
THIS EXCITING INITIATIVE IS BROUGHT TO YOU BY THE FOLLOWING SPONSORS:

Happy Baton

Happy Baton is Hong Kong's first online toy subscription rental service! We provide fun and educational toy boxes for different age groups and development stages to promote learning through sustainable play. Play Smarter, Play Greener!

RedBox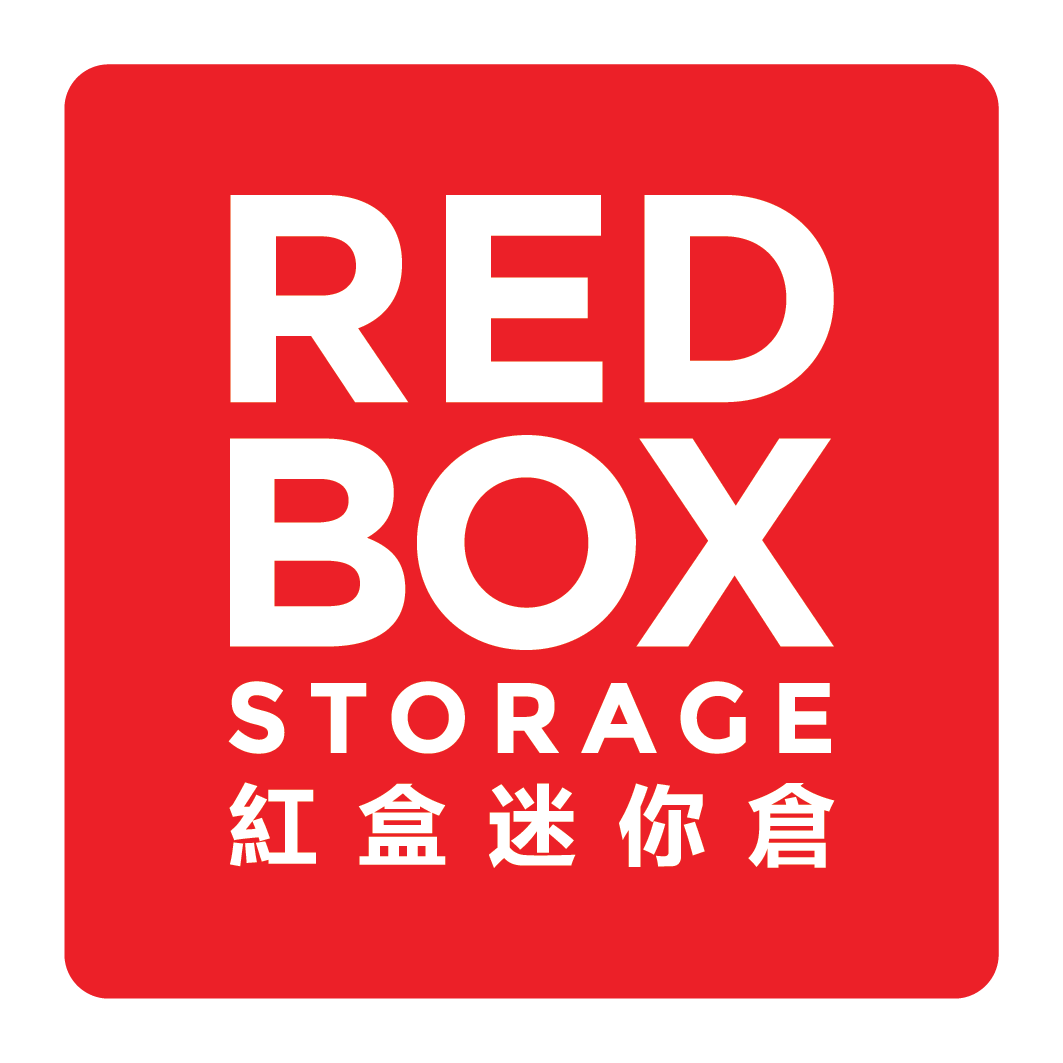 RedBox Storage is delighted to yet again be supporting Happy Baton and Branch of Hope in their toy donation drive this year.


Not everyone gets to have a very Merry Christmas and this year has been full of challenges for many refugee families, especially those with young children. From now until 29 November, spread a smile and look out for our collection boxes around town.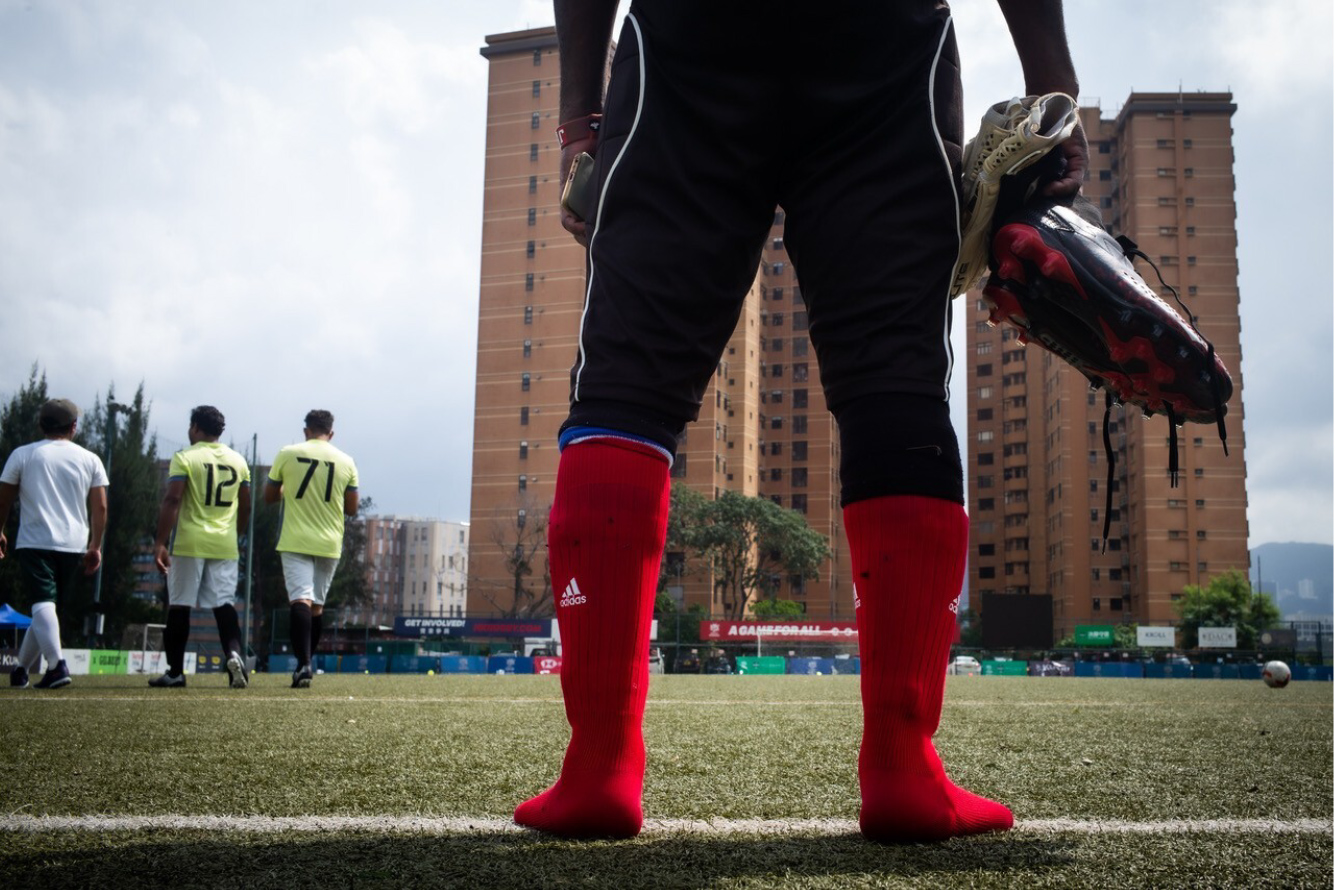 "Home & Away" is a football term that refers to whether a team is playing at 'home' in their own venue, or away in someone else's.
We hope this Tournament will raise awareness and funds for refugees, asylum-seekers and human-trafficking survivors living in Hong Kong. We bring across a message that they are away from home and separated from their families, but also instills hope that our city is one that cares.
We also hope this event will provide a place for the marginalised and vulnerable to enjoy football with different corporations in Hong Kong, and as a result genuine friendships will be formed. Moreover, to facilitate social integration across the city where they feel being cared for and experienced "Home away from Home",
and everyone foster the spirit of "Home together".
IMPORTANT NOTES TO PARTICIPANTS 
 All footballers must be aged 16 years old or above. 

Players should be aware of their own physical fitness. For the sake of safety, persons with health problems such as asthma, heart and lung diseases, plantar fasciitis should seek medical advice before entering for the tournament.  

Players taking part in this event are acting solely on his / her own discretion and at his / her own risk. The organizers accept no responsibility, nor liability, for accidents of any kind, resulting in death or injury, nor for any damage or loss of personal property during the event. 

To comply with the Hong Kong Government's latest anti-pandemic guidelines, we will put in place a series of strict precautionary measures to safeguard the health and safety of our participants.  

All registration fees and other donations are not refundable. 

The Organiser ("Branches of Hope") reserves the right to restrict or reject any application.
AWARDS AND RECOGNITION
Cup Champion

Cup Runner-up

Highest Fund Raising Team

Highest Fund Raising Individual
GOODIE BAG
Each participant will receive a goodie bag with the following items:
BOH travel bag

BOH quick-dry towel

Decodeco cooling patch

G&D Mint & Ginger Herbal Oil + coupon

BE-KIND nuts bar

Aquarius sports drink

Physiotherapy voucher (free first session) at MY Medicare

Drink voucher (free house wine upon dining) at Orka Central
PRIZES
PAYMENT METHODS
Cheque – Payable to "BRANCHES OF HOPE LTD". Please mail cheque together with this registration form to "Branches of Hope, 29 Burrows Street, Wan Chai, Hong Kong" 

Bank Transfer – Branches of Hope Ltd's HSBC account (499-814499-838).  
Enclose the bank slips with this form, email to info@branchesofhope.org.hk. 

Online Payment – Please make payment online at https://branchesofhope.org.hk/donations. 
Please email info@branchesofhope.org.hk your payment confirmation email together with this form.
All proceeds (minus administrative cost) help raise fund for our work and service towards the most marginalised and vulnerable community in Hong Kong.
The event also aims to raise funds to support the needs of our community members. You can support us by fundraising for the event through our crowdfunding page , or create your own crowd funding page or fill in the donation form (instructions in the donation form).
GAME RULES
The normal rules of football will apply except that there will be no offside. 

Shin-pads must be worn at all times. 

Maximum number of players on the field will be 6 + 1 Goalkeeper. The minimum number of players is 5. 

Each team must be ready to play at the appointed time. 

There is no limit on substitutions.  It is not necessary to request the referee's permission before making substitutions.  Substitutes must enter the game from the half-way line and may not do so until the substituted player has left the field.  Substituted players may return to play. 

Any player receiving a red card will be suspended for a minimum of one game.  Any player receiving 2 yellow cards during the tournament will be suspended for the next match 

Points system for all games: Win = 3 points, Draw = 1 points, Lose = 0 point. 

All teams in the Group Stage will proceed to the Knock-out Stage.  Schedule of play in Knock-out Stage will depend on the Group Stage ranking by points.  In the event of a tie in points, it will be decided by goal average.  In the event of a tie in goal average, it will be decided by the goal average between the tied teams. 

In the event of a tie at Knock-out stage and Finals Stage, the match will proceed straight to sudden-death penalties.

*Group Stage: 12 minutes one way (no half-time).
*Knock-out Stage: 10 minutes each way with no half-time.
*Finals Stage: 10 minutes each way with 2 minutes half-time. 
*Note: format subject to change according to total number of teams 
OUR VOICES OUR STORIES EXHIBITION
Date: 9 to 30 July 2022
Time: noon to 11pm (Close on Sundays)
Venue: Orka Central, 36 Wyndham Street, Central
Table reservation: https://book.bistrochat.com/orka
Click image below for full stories in English and Traditional Chinese.
SAVE THE DATES AND STAY CLOSE WITH US FOR MORE EVENT UPDATES!